This Friday Elemental will be performing at the newly refurbished Theatr Colwyn. The theatre has recently reopened after refurbishment, as detailed in this BBC News article.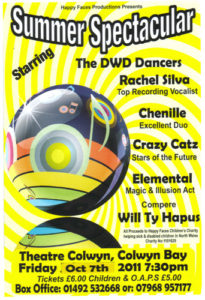 The show stars Chenille duo, Crazy Catz stars of the future and Wil Ty Hapus as the compere.
We will be doing two spots in the show, one in each half. Our second act will be an extended version of the routine that won the manipulation award at the recent International Brotherhood of Magicians British Ring convention in Southport.
Tickets cost £6 (£5 for concessions), and all proceeds will go to Happy Faces Children's Charity.