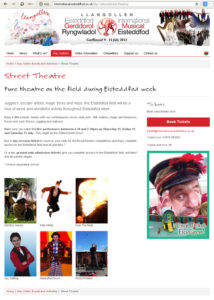 From Tuesday the 9th to Saturday the 14th of July, Gatling Magic will be in Llangollen for the 67th International Musical Eisteddfod.
We'll be part of the Street Theatre events – roaming around the Eisteddfod field, showing close up magic and miracles to the crowds. We'll also be in the Opening Town Parade on Tuesday.
Every day at the Eisteddfod will be different; there's International Children's Day on Tuesday, Folk Friday, and Family Day on Saturday. There's sure to be something for everyone!
We can't wait to be back working with the rest of HTC Entertainments again, we always have such a fabulous time with them.
The weather forecast for next week looks great, lovely and sunny, so why not come along to Llangollen and enjoy the sunshine!
You can visit the Eisteddfod's website here.