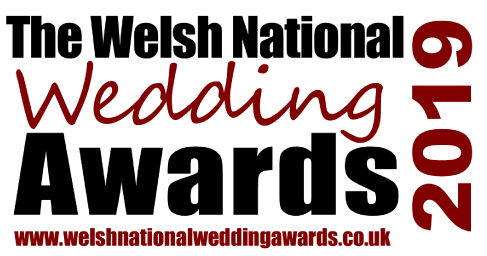 I perform at lots of different events over the course of the year, from outdoor festivals to corporate functions, and I have a great time at all of them; meeting lots of different folk from all walks of life, and getting them smiling and laughing with my performance.
But one of my favourite type of events will always be weddings: not only are you surrounded by people who are celebrating a joyous occasion, unified by the love they have for the two people they are there to see tie the knot; but it is also an honour to be a part of such a special day, to be one of the elements that helps people build some life-long memories.
There are many different elements that help bring such a day together, and I have had the privilege to work alongside some of the best in the business, from DJs and caterers to venue dressers, make-up artists, photographers and so many more. There are many people behind these special days and each year, to celebrate the best of the best, The Welsh National Wedding Awards are held in Swansea.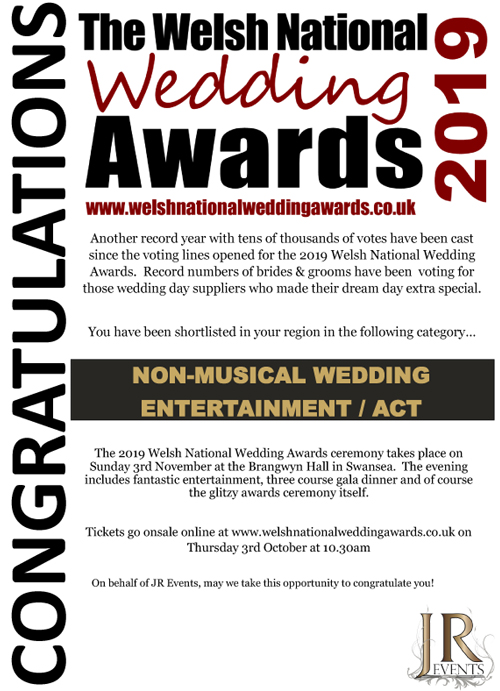 Suppliers from across Wales can throw their hat in the ring and it's up to their brides, grooms and guests to vote for them. The country is split into five regions and there are twenty five categories. To be shortlisted for the final means you are in the top five for your category in your region. This year I entered Gatling Magic into the running as part of the Non-musical Wedding Entertainment Act category. And recently they revealed who is on the Welsh National Wedding Awards 2019 Shortlist. As you may have guessed by now… I was shortlisted for the final!
It is such an honour to have got this far, and to know that it is thanks to all those who voted for us. I am so happy knowing that all those folks have enjoyed the magic and have allowed me this amazing opportunity. So on November 3rd I'll be heading down to Swansea to attend the awards ceremony, with everything crossed that we take home the prize. But even if that doesn't come to pass just getting this far is truly amazing. Thank you all once again.
For more details of the wedding services we offer, visit our wedding magic page.