Let the show begin!
A live show is a superb way of engaging your entire audience in a world of pure impossibility; a chance for them to sit back, relax and immerse themselves in a performance full of astonishment and wonder, a true escapist fantasy.
If you're putting on a full theatre show, looking for something unique for your wedding or are hosting a party for friends and family in your living room, I have just what you need.
All my shows can be hired independently, but occasionally there will be public shows that you can buy tickets for. Watch out for our next public dates.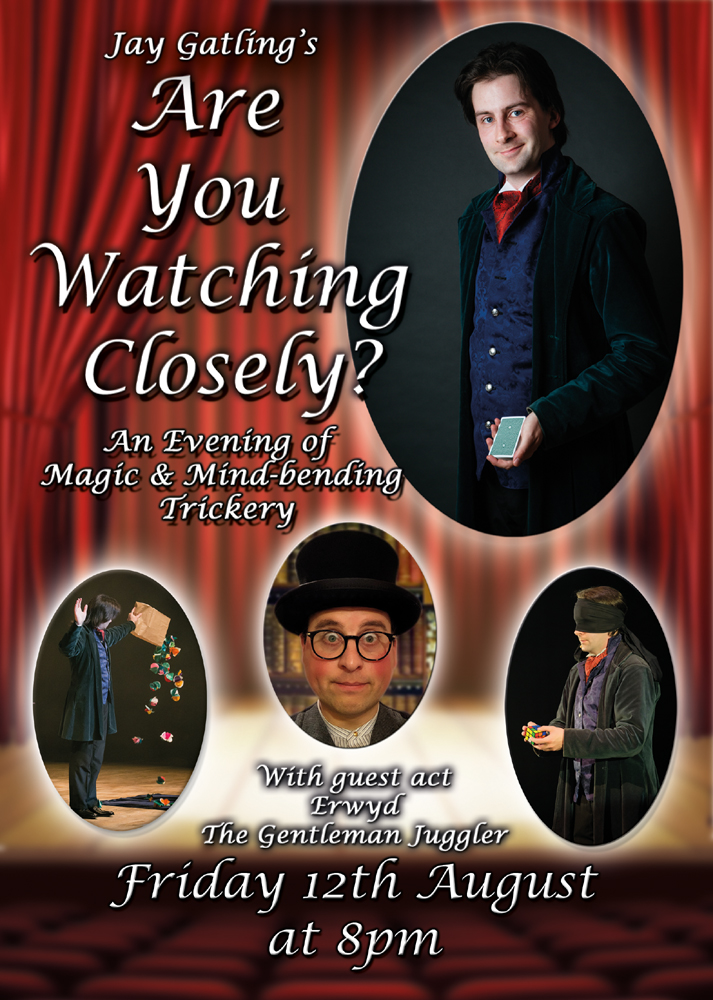 Upcoming public show!
I'm excited to announce that on August 12th Are You Watching Closely? will be appearing at the beautiful Hilton Garden Inn Snowdonia.
It's a night out that is guaranteed to amaze, amuse and entertain one and all. With astounding feats of dexterity, mind reading and mastery of the amazing, you'll discover that nothing is impossible, just a bit unlikely.
But don't take my word for it. Here's what previous attendees have said:
"Professional, creative, unique and utterly mind blowing! Loved every minute, thanks for a super show!" Helen Bucke – Attendee
"Such an amazing show last night! Spent most of the night with my mouth hanging open! Was the perfect amount of comedy, mystery and magic!" Maddie Jones – Attendee
"Absolutely amazing show tonight at #areyouwatchingclosely fantastic entertainment and a great night had by all." Danni Buxton – Attendee
Tickets are only £15.00 and are just a couple of clicks away.
We can't wait to greet on the night!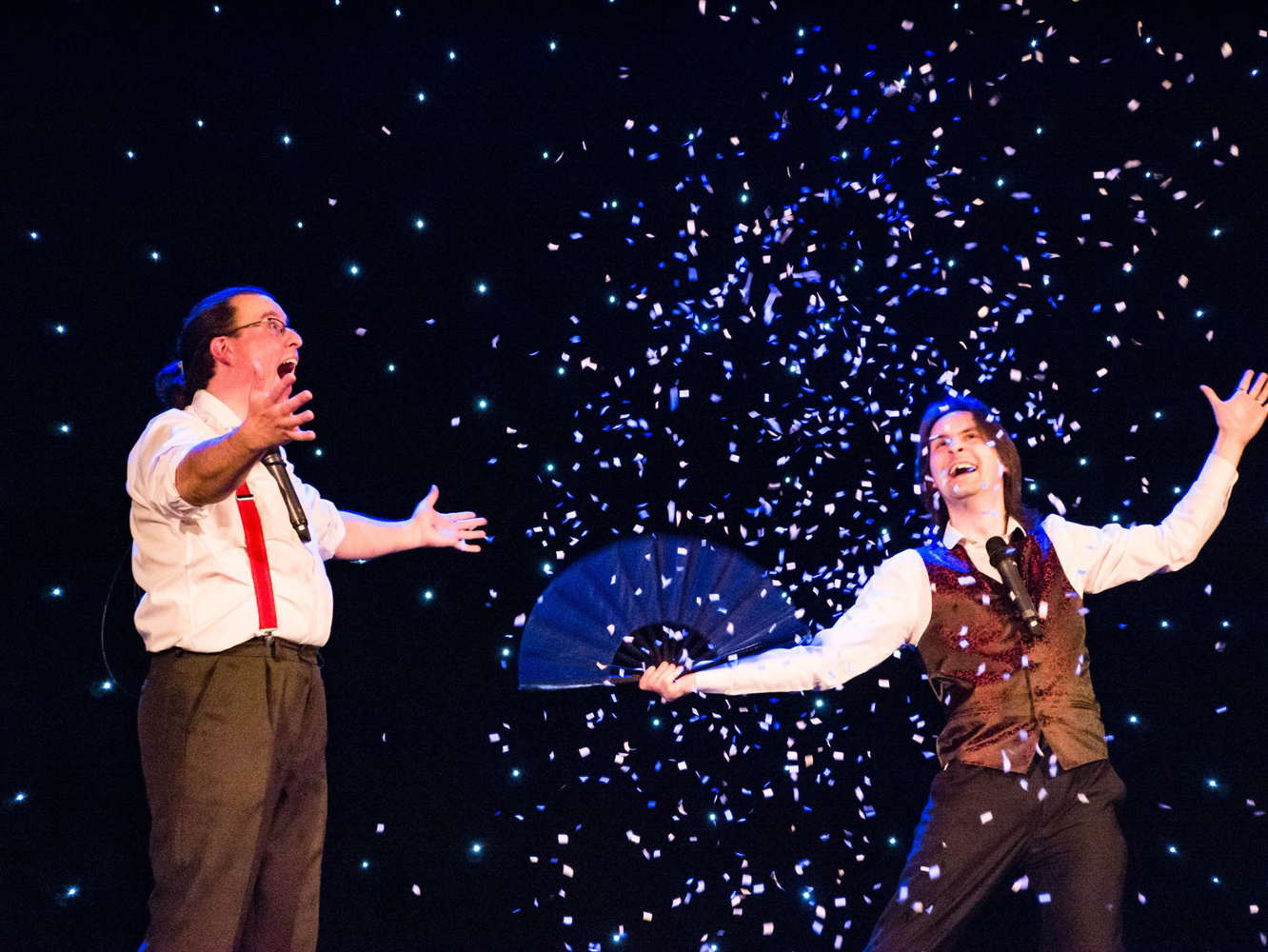 "What a terrific young magician, you're gonna see a lot of this boy" – Jimmy Cricket, Comedian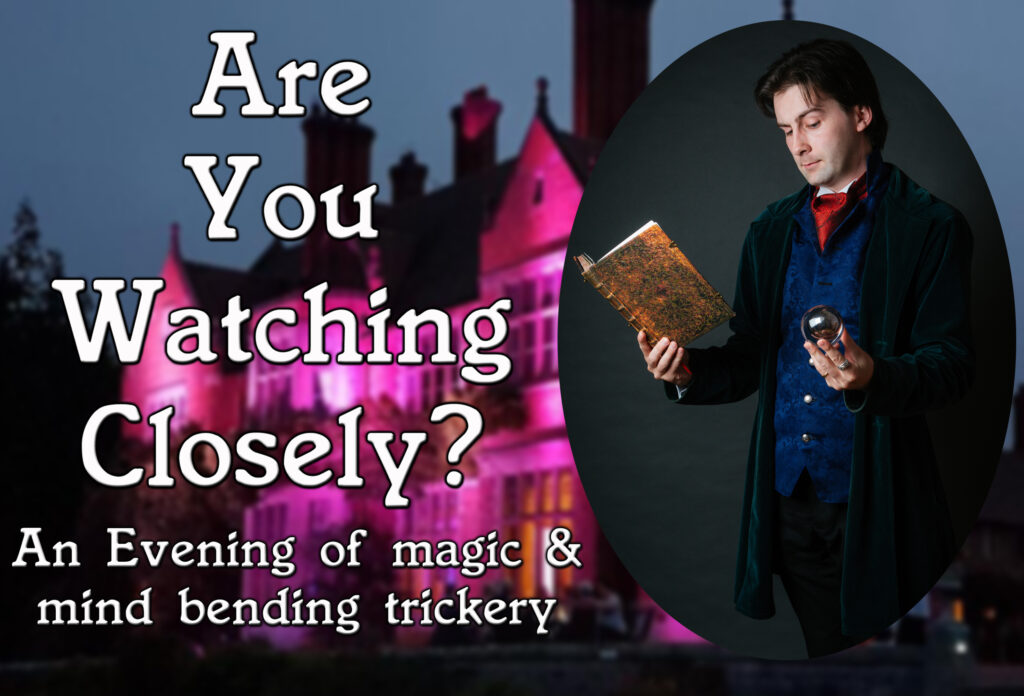 Are You Watching Closely?
Ladies and gentlemen, you are cordially invited to an unforgettable evening of mystery, illusion and skill. Conjurer Jay Gatling will be presenting his parlour show, Are You Watching Closely. A performance guaranteed to amaze, amuse and entertain one and all.
With astounding feats of dexterity, mind reading and mastery of the impossible, you will be transported back to the golden age of magic and into the mind of a magician, as Gatling guides you through a world where nothing is ever quite what it seems.
So step back in time and join us for a memorable night out of prestidigitation and mind bending trickery! Remember to ask yourself one question, are you watching closely?
Available for medium to large stages
Shows can be 30, 45 or 60 minutes long
A full evening performance is 2x 45 minute halves with a guest act.
This show is theatre ready
Trickery:
Hosting a birthday party, planning a wedding or just having a celebration with friends and family at home? Then you may want a little live entertainment to bring something truly unique to the occasion.
Trickery is the perfect party show. Mixing a variety of skills from magic, to juggling and even a Rubik's Challenge, this high energy, colourful performance will get people into the party spirit and bring everyone together.
As an adaptable show this performance can fit any space small or large. So whether you want the show in your front room or are hiring a venue, Trickery will bring a theatre quality show to your doorstep.
Available for small to large stages.
Shows can be 15, 30 or 40 minutes long.
Can be hired independently or packaged with walkabout close-up magic for a full evening performance.
Erwyd and Gatling:
A magician and a juggler walk into a theatre, what happens next is sure to thoroughly entertain. Mixing together two wild imaginations, Erwyd and Gatling bring to the theatre stage a show that will amaze and amuse, as this double act share their unique skills.
The Erwyd and Gatling show is a family friendly performance full of comedy, audience participation, juggling, magic and mild hysteria… Young and old alike will have a blast as they are taken on a roller coaster ride through the imaginations of Erwyd and Gatling!
Available for medium to large stages
Shows can be 30 or 60 minutes long
A full theatre show is 2x 45 min halves with an interval
This show is theatre ready