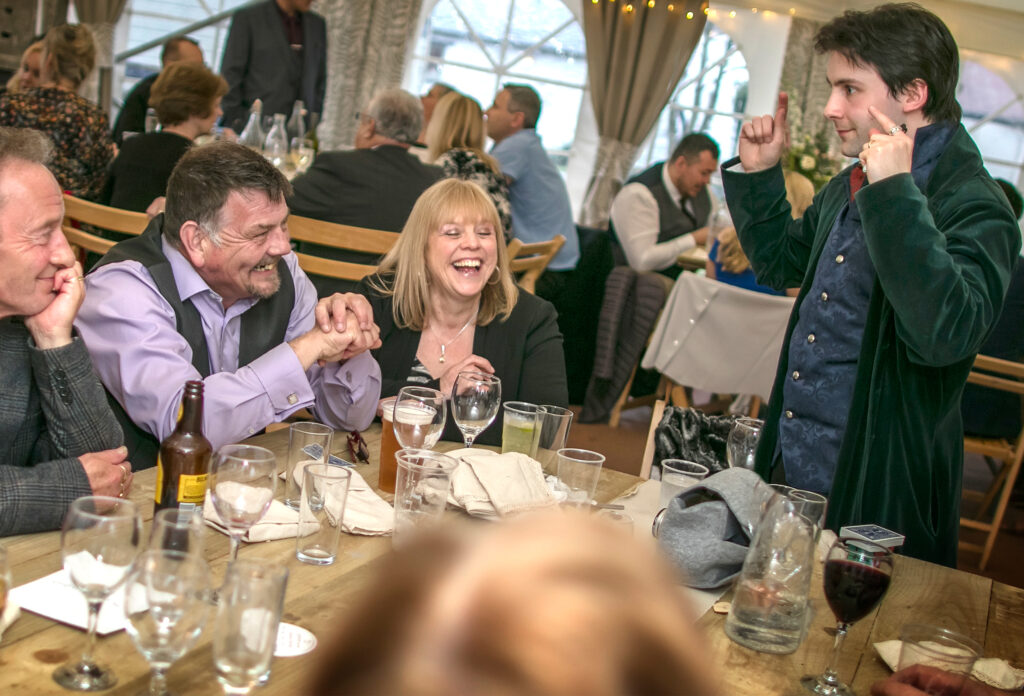 Making Memories.
Live entertainment is a highly popular way to engage your guests at your wedding. A wedding magician is a unique and memorable type of entertainment that everyone is sure to enjoy.
Walk about close-up magic is a fantastically flexible form of entertainment, able to fit into any part of the day; great for keeping the flow of the day going or getting the conversation started with those guests who might not know each other all that well. It is a brilliant style of live entertainment that will help bring everyone together and build an atmosphere of friendship and excitement.
Drinks Reception:
During the drinks reception whilst you're having your photos taken, can be a bit of a slow point for those guests who aren't part of the pictures. During this time I can help keep the energy high and make the time fly by with laughter and amazement. So you can rest easy knowing that your guests are being taken good care of.
Wedding Breakfast:
The wedding breakfast is another fine choice for a wedding magician. Entertaining between courses can help to build a buzz in the room and create a positive atmosphere. In addition, it is a great ice breaker for those guests who don't know each other. Helping to get the conversation started and to build friendships.
"My guests came up to us all evening and said 'that Magician is brilliant, how does he do those tricks!' Thank you so much Jay!" – Cassey J, Bride
Evening Reception:
The speeches are done and there is a bit of time to burn before the evening party kicks off with a bang. While your day guests wait for the room to be turned around and your evening guests start to arrive. I'll be there engaging everyone with some mind bending trickery and high energy entertainment. Helping to get them all into that party spirit.
Lets Chat
The above suggestions are just some of the points in the day where a wedding magician can work. Of course your wedding will be unique to you, and you may find another point that would work for your big day. So let's have a chat and I'll help you to plan the perfect entertainment for your celebration.
Show:
A stand up performance is a superb way to entertain everyone and bring the wedding party together for a mind blowing experience. Perfect after the speeches, or to help kick off the evening reception; a full blown magic show adds a truly unique event to your wedding, that is sure to help build unforgettable memories.
With astounding feats of dexterity, mind reading and mastery of the impossible, you and your guests will be transported back to the golden age of magic, as I guide you through a world where nothing is ever quite what it seems; finishing with a trick especially for the bride and groom, leaving them with a special souvenir and memory of the day.
Shows can be an add-on at just 10-15 minutes long, or a full experience at anywhere up to 45 minutes long. Shows can be booked on their own or as part of the full day package.

"Jay performed at our wedding…and everyone absolutely loved him! …Would highly recommend Jay for any event you might hold; lovely guy and extremely professional." – Mykalea Robins-Bruce, Bride
Our Wedding Supplier Friends
As a wedding magician in North Wales I have had the honour of working with some of the best suppliers in the area. So if you're looking for a DJ, venue, photographer or more then check out some of our recommended suppliers below.