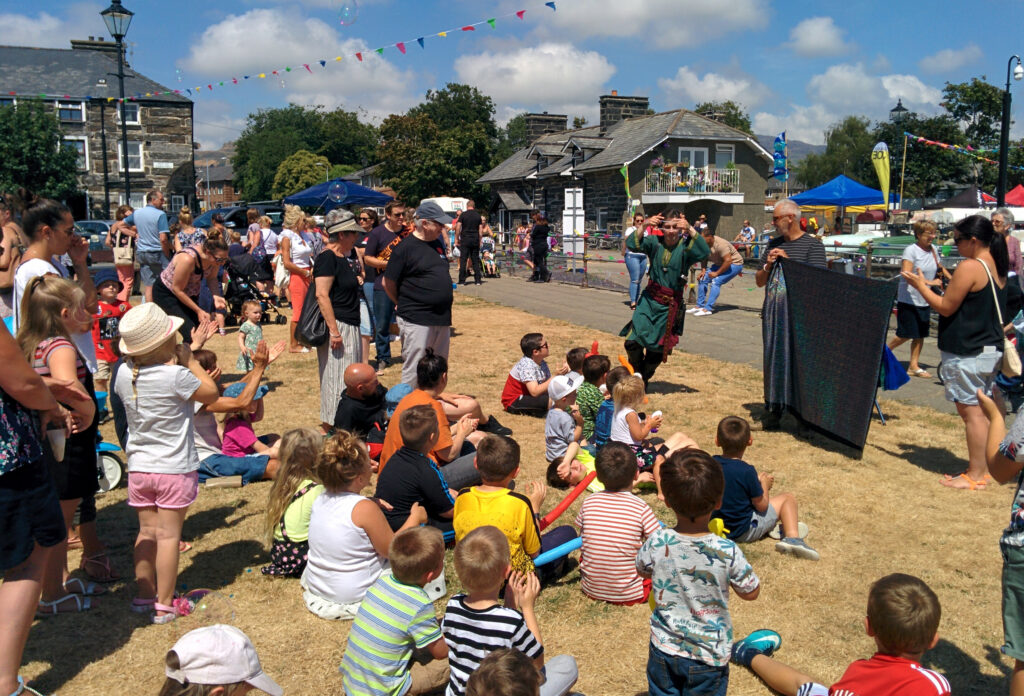 Come Rain or Shine.
I love working at a good outdoor event. From community events all the way up to large scale festivals, they are a joy to perform at. Sharing some magic with folk under the summer sun, or even whilst sheltering from the rain is an absolute pleasure.
I am able to provide either walkabout entertainment or a selection of shows. Both types of performance fit beautifully into any outdoor event, large or small. They can be hired individually or as a package, giving you a wonderful mix of entertainment to help fill the day.
It's Showtime!
My walkabout character is great for keeping attendees entertained as they move about the field, filling in the blank moments where folk are merely wandering, and keeping people amazed and engaged with incredible close up miracles. My main character is The Wizard of Conwy, though pirate, Victorian gentleman and others are also available.
I also have a variety of shows available for your event. These include The Wizard of Conwy or Captain Gatling solo shows. Both are 20-30 minute long performances that are an entertaining mix of magic, juggling and daring challenges. Then there is our fantastic pirate show. Exciting, tense and funny, my double act partner and I present a unique performance that not only has magic and juggling, but ends in an epic sword duel over who gets to perform the big trick.
All shows are perfect family friendly fare, and provide a surprising form of entertainment that your attendees may not have been expecting, but will certainly enjoy.
"I have booked Gatling Magic for a number of events ranging in style and audience. Jay is always… a pleasure to work with. Punctual, reliable, friendly and fun. I would recommend without hesitation." – Kimberley Edmunds, Event Organiser
Choices, choices, choices.
Whether you book walkabout or one of the circle shows, I aim to astound and amaze everyone I meet. I guarantee that your attendees will leave having had a great time, and will remember your event for years to come.
Shows and walkabout characters are available in a selection of packages which can be found below. Get in touch for prices and availability:
Walkabout Entertainment Only
1x Show and Walkabout Entertainment
3x Shows and Walkabout Entertainment
Balloon Modelling is available independently, or as an addition to any of the above at an extra cost.
The Erwyd and Gatling Pirate Show. Up to 3x shows a day.
The Captain Gatling Pirate Magic Show. Up to 3x shows a day