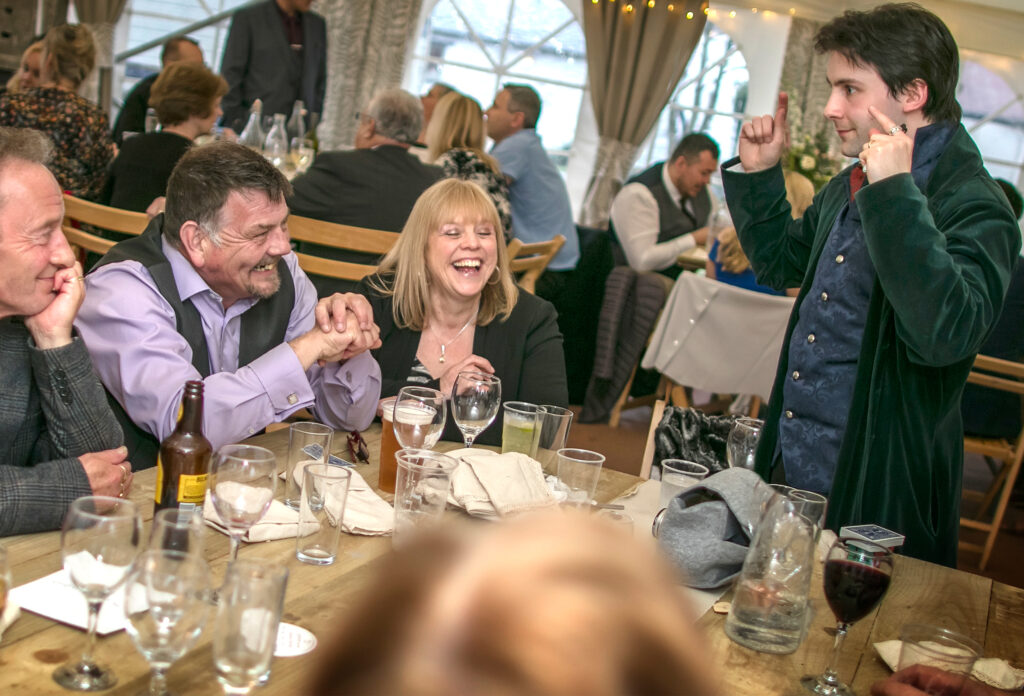 Making Memories
Welcome to my North Wales Wedding Magician page. I'm Jay Gatling and as a wedding magician it is my passion to help bring unique and unforgettable entertainment to weddings across the country.
Your wedding is a truly special day, where you are creating a powerful bond with the love of your life. And you're going to want to celebrate it with all your friends and family. A big part of any celebration is of course entertainment, and that's where I come in.
The North Wales Wedding Magician
I have worked as a magician and entertainer for well over a decade and have performed at many weddings throughout North Wales and the rest of the UK. It is my favourite type of event to work at as weddings are a celebration like no other, full of love, laughter and the building of life long memories. When I am invited to perform at one it is my honour to help bring to the proceedings high quality, memorable entertainment.
Live entertainment is a popular way to engage your guests at your wedding. A wedding magician is a unique and unforgettable type of entertainment that everyone is sure to enjoy. I provide walkabout close-up magic and parlour shows to help get your guests smiling, laughing and having a good time. But where can such a performance work through the course of the day I hear you cry? Well, let me share with you some of the places that work the best.
"Jay performed at our wedding…and everyone absolutely loved him! …Would highly recommend Jay for any event you might hold; lovely guy and extremely professional." – Mykalea Robins-Bruce, Bride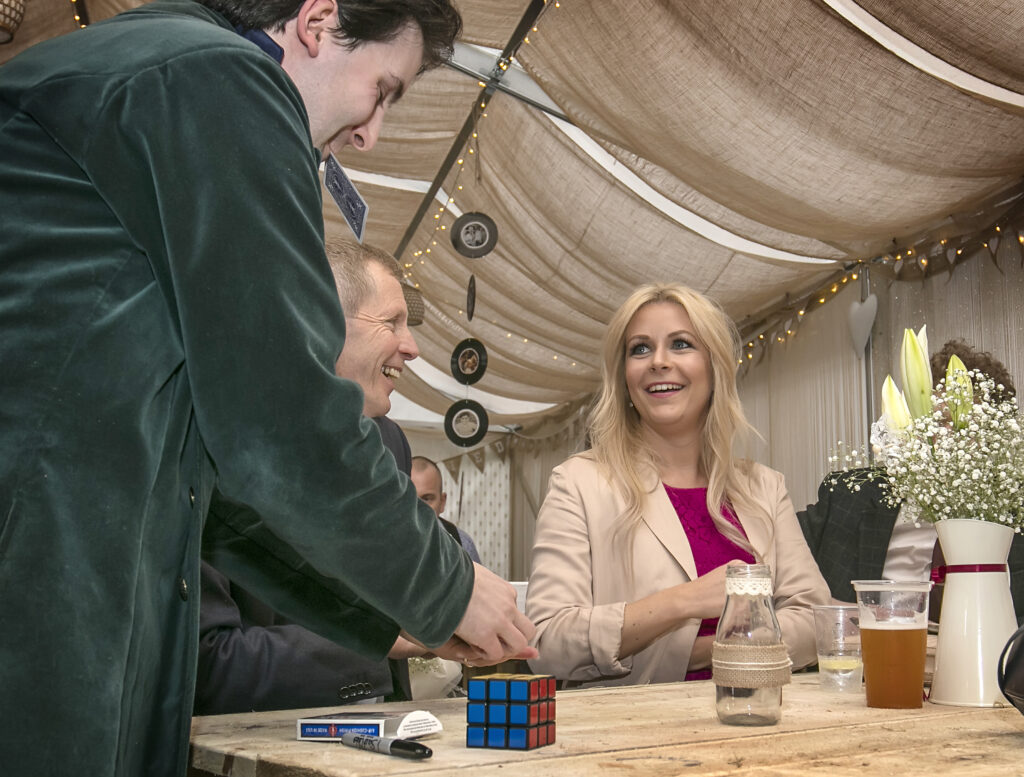 Drinks Reception
The ceremony is complete and now it's time for some photos to capture the moment with family. But not everyone is necessarily going to be a part of these pictures. So some of the wedding party can be at a loss of what to do during this period. For them it can be a bit of a waiting game until the meal comes around.
This is one of the most popular places I tend to be booked, as I can help keep the energy high and make the time fly by, sharing some of my favourite close-up miracles. Everyone feels involved in the day and you can rest easy and enjoy having your pictures taken, knowing that your guests are being well looked after and entertained.
Wedding Breakfast
Let's eat! Everyone is seated and ready for food, but there's a large number of folk to feed, and serving takes time. We've all been to those events where you have to wait for your table's turn to be served, all the while watching the others get theirs first. And what if you don't know anyone else on the table? Out comes the phone.
Even with all this your guests will still have a good time, chatting with those they do know, heading to the bar for their drinks, or just listening to the background music. But I can improve the experience greatly and help smooth out that waiting time, whilst also building a buzz in the room and an overall positive atmosphere.
A feast of magic
I'll entertain between courses and never bother those who are eating, moving from the end of the room where they will be served last to the end that was served first. The space will be filled with the sound of claps and cheers, laughter and gasps of amazement.
That feeling will ripple out across the room, building the excitement for those who have yet to see some magic. And that table where no one knows each other? By the time I've left they will be chatting away, creating new friends and memories, the ice well and truly broken.

Absolutely fantastic! Not only was his magic outstanding but he is also a very warm, approachable person. Seriously, the only explanation I have for his tricks is ACTUAL MAGIC! – Jade Ashley, Bride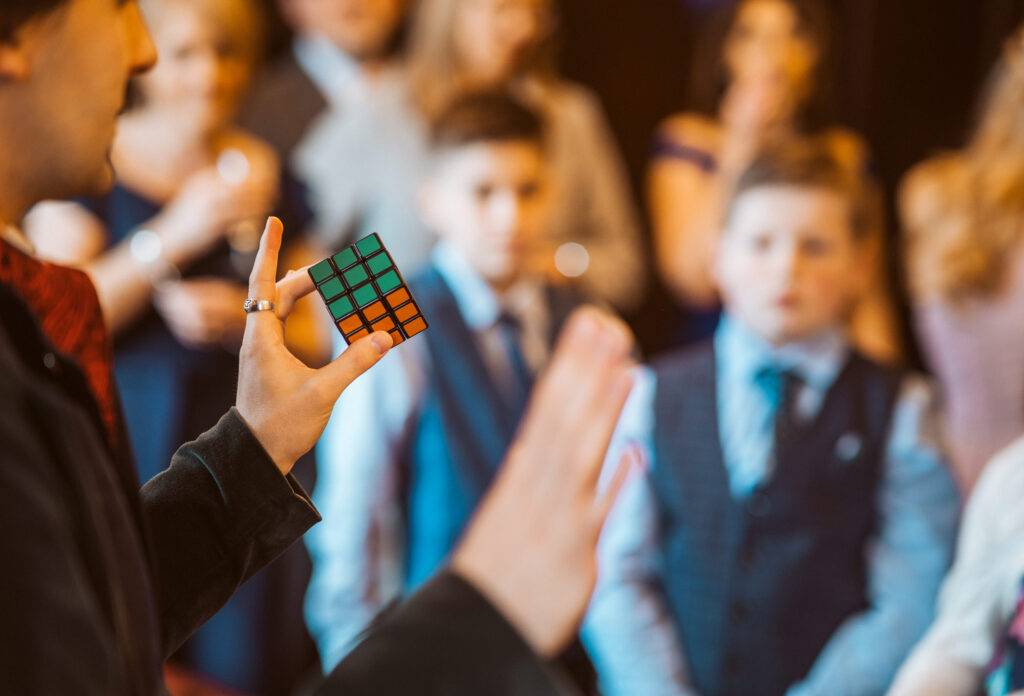 Evening Reception
Everyone's had their food and is now comfortably full. They've laughed, they've cried and they've cheered at the speeches. Now comes the turnaround. It's that time where the room needs setting up for the evening party. But you and your guests need to go elsewhere whilst this is done.
Depending on your venue some folk may hang round the bar, find a nice spot to sit, chill and chat; or maybe head up to their room, if they have one. But it's a moment where people tend to find themselves at a bit of a loss.
Once more a little walkabout close-up magic can work wonders. As your day guests wait for the room to be turned around and your evening guests begin to arrive, I can be there to help keep the energy high. I'll engage everyone with some mind-bending trickery and getting them all into that party spirit; right up until you weave your own spell with the first dance.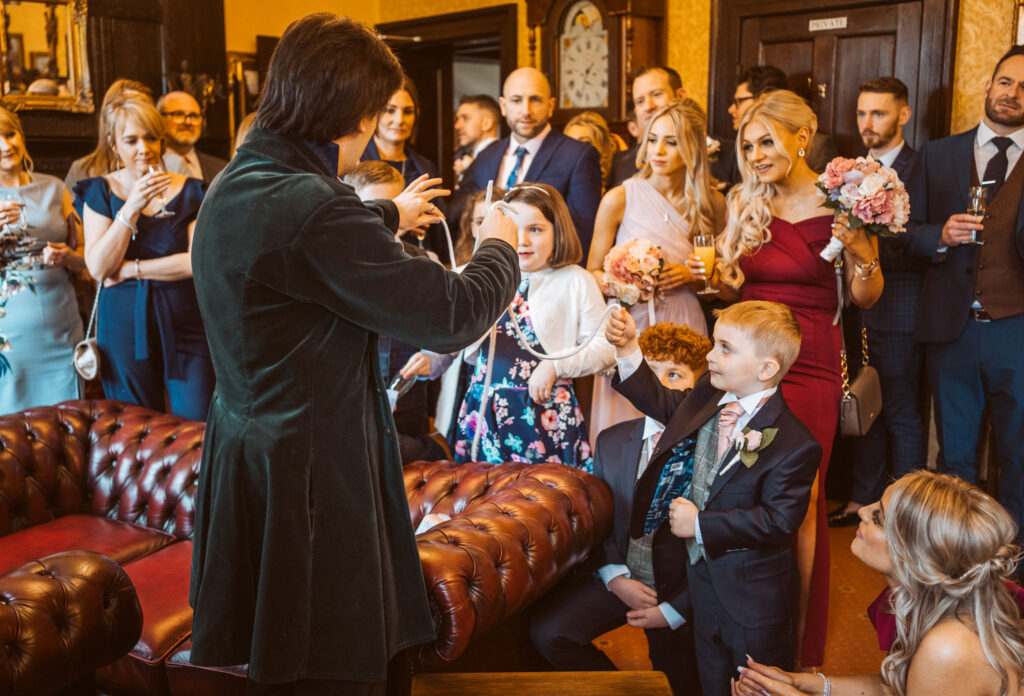 Show
As an alternative to close-up magic you may want something a little more theatrical for your wedding day. A stand up performance is a superb way to entertain everyone, bringing the wedding party together for a mind blowing experience. Perfect after the speeches, or to help kick off the evening reception; a full blown magic show adds a truly unique event to your wedding, that is sure to help build unforgettable memories.
With astounding feats of dexterity, mind reading and mastery of the impossible, you and your guests will be transported back to the golden age of magic, as I guide you through a world where nothing is ever quite what it seems; finishing with a trick especially for the bride and groom, leaving them with a special souvenir and memory of the day.
Shows can be an add-on at just 10-15 minutes long, or a full experience at anywhere up to 45 minutes long. Shows can be booked on their own or as part of the full day package.
"My guests came up to us all evening and said 'that Magician is brilliant, how does he do those tricks!' Thank you so much Jay!" – Cassey J, Bride
Let's Have A Chat
The above suggestions are just some of the points in the day where a wedding magician can work. Of course your wedding will be unique to you, and you may find another point that would better suit your big day.
Below you'll find some of my wedding packages and each one can be customised to best suit your needs.
Get in touch today and share with me your wedding plans, and let me help you put together the perfect entertainment for your celebration.
Packages and options
2hrs mix and mingle close-up magic
2hrs close-up and mini-show add-on (10-15 minute show)
Full parlour show (45 minutes)
The Complete Package (2hrs close-up magic and 45 minute show)
Prices start at £350.00. Get in touch for your personalised quote or to check availability.
Contact
North Wales Wedding Magician Jay Gatling
I can't wait to chat with you about your plans, and help organise the perfect performance for your wedding.
Get in touch via
Tel: 07780 322 860
Email: jay@gatlingmagic.co.uk
Or just fill in the form below:

Our North Wales Wedding Supplier Friends
As the North Wales Wedding Magician I have had the privilege to work with some of the best wedding suppliers in the area.
So if you're looking for a DJ, make-up artist, venue dresser or more then check out some of our recommended suppliers below: