Jay was in the news recently, when he was revealed as the official Conwy Tournament Wizard.
THERE is a new Wizard in town and he is hoping Conwy will fall under his spell.

Conwy Chamber of Trade have named award winning magician Jay Gatling as the official Conwy Tournament Wizard; the tournament is coming to the town in June. The historical re-enactment event will feature a "throng" of knights, nobles, Vikings, musicians, actors, jugglers, merchants and jesters.

Jay, a Llandudno based magician, received news of his prestigious title this week and swiftly tweeted images of his new wizarding robes.

He said: "I couldn't believe it. The news came completely out of the blue.
The Conwy Wizard will be appearing at the Tournament this summer. As well as the Wizard, the event will feature over 300 re-enactors, jousting knights, travelling fools, minstrels and Erwyd le Fol the Conwy Jester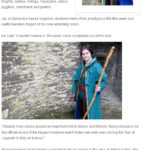 You can see the full article by clicking on the image to the left, or click here to read it on the North Wales Pioneer website.
Update:
A variation on the above article appeared in the printed version of the North Wales Pioneer, as shown in the image below.