Gatling Magic presents in association with Venue Cymru Fundraisers, the first ever Illusionary: An Evening of Magic and Illusion. A fabulous family show, with astounding close up magic and a superb stage show.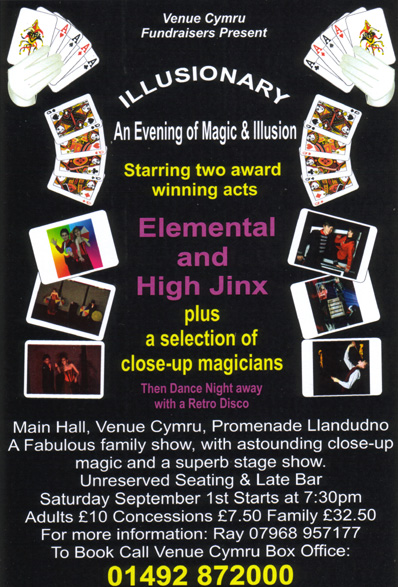 Featuring two award winning magic acts, including High Jinx, as seen on ITV's "Penn and Teller's Fool Us", and the high-paced, colourful and exciting magic of Elemental, as well as a selection of close up magicians.
During the first part of the evening, see the impossible up close, as magicians Jay Gatling and Michael Jordan and others perform incredible magic at your table.
After the interval, the action moves to the stage, with a show featuring the award winning magic acts of High Jinx and Elemental: you won't believe your eyes as an amazing world of magic unfolds before you.
Following the magic, there will be a retro disco for you to dance the night away.
Adults £10 Concessions £7.50 Family £32.50
Tickets on sale now from Venue Cymru Box Office: 01492 872000
https://tickets.venuecymru.co.uk/whats-on/Illusionary.html
Saturday September 1st at 7.30pm, in the Orme Suite at Venue Cymru, Promenade, Llandudno LL30 1BB
Important Message: If you are planning to come to see Illusionary, please make sure that you buy your tickets in advance, rather than waiting until the night, as the theatre need to know what numbers to expect.
You can get your tickets from the Venue Cymru website, by telephoning their box office, or by calling in to the theatre in person.