We haven't posted much for a while, as the start of the year is always quiet, but things are beginning to get busy again now.
We're very pleased to be able to tell you that we'll be taking part in Happy Faces' summer season in Llandudno town hall again this year. This will be our fourth year as part of the shows, and we're really looking forward to them.
Happy Faces do a lot of work for disabled and disadvantaged children across North Wales, and we're always glad to be able to help them.
In 2010 we took part in both of their summer shows: the Seaside Special variety show, and for the first time we were in their 1940s/nostalgia show, Happy Days Are Here Again.
2009 was our first season with Happy Faces, when we were in their variety show, Seaside Follies.
Happy Faces asked us back in 2011, and we took part in Seaside Special once more, and their new 1940s show, Remember the Times.
Over the last few weeks the cast and the producers have been meeting to decide what is happening in this year's Thursday show. As always, it will be a 1940s/nostalgia show. We are planning a selection of new songs and sketches, but we'll still be keeping in some of the old favourites from previous years.
There are a few cast changes this year, with one new member, and two old members rejoining us. Rehearsals started last week, and it's so nice to be working with everyone again. It's always strange when the season finishes and we don't see all our friends every week, so it's great to be back with them all.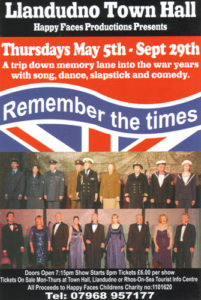 The provisional dates for this year's shows are every Wednesday from the 2nd of May to the 3rd of October for the variety show, and every Thursday from the 3rd of May to the 4th of October for the 1940s show.
Tickets are not yet on sale, but we'll be sure to tell you as soon as they are available.