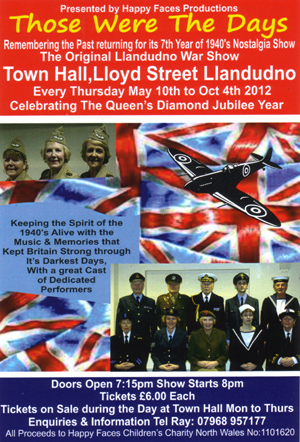 Happy Faces Productions presents Those Were The Days, for summer 2012.
Back for its 7th year, the show keeps the spirit of the 1940's alive with the music and memories that kept Britain strong through its darkest days. Featuring a great cast of dedicated performers.
Every Thursday from the 10th of May to the 4th of October at Llandudno town hall. Doors open at 7.15pm and the show starts at 8pm. Tickets are on sale at the town hall from Monday to Thursday, and are priced at £6 each, with all proceeds going to Happy Faces Children's Charity.
Enquiries & Information: 07968 957177
Website: www.happyfacescharity.co.uk