This is part two of our behind the scenes look at the shows we took part in over the summer at Llandundo town hall. Part one is here.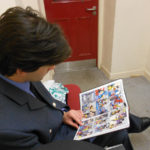 Jay had a lot of different costumes this year, with a grand total of nine costume changes in all. I've put together a selection of photographs which show you just some of the different outfits that he wore.
Here he is, taking a chance to relax before the start of the show.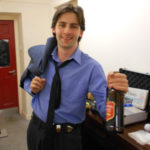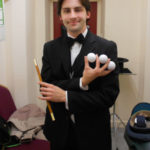 Left to Right: Ready for the pub scene, in character for the Box Sketch, and the two costumes he wore for our 1940s themed magic routine.
And finally, the pictures that I've been waiting all year to put on the blog! We've been keeping quiet about this, so as not to spoil the surprise for our audiences, but now that the shows are over, I can show you the photographs:
Yes, that's a photograph of Jay in a wig and high heels, dressed up as one of the Andrews Sisters! The three guys did a brilliant job of miming along to Boogie Woogie Bugle Boy, complete with dance routine.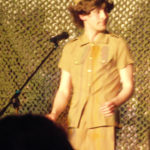 All the shows that we did in Llandudno town hall were with Happy Faces Children's Charity – a local charity which raises funds for disabled and disadvantaged children all over North Wales.