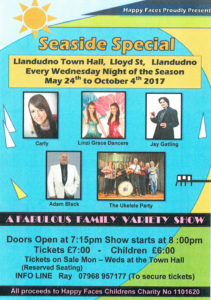 We're delighted to be working with Happy Faces Children's Charity for their summer variety show Seaside Special.
Taking place in Llandudno Town Hall, the shows feature Carly, Adam Black, the Ukelele Party, and the Linzi Grace Dancers, as well as Jay Gatling.
The first performance of the season is on Wednesday 24th of May, and the shows run every Wednesday until the 4th of October. Doors open at 7.15pm and the show starts at 8pm
Tickets are £7 for adults, £6 for children and are on sale in the Town Hall Monday through Wednesday, or can be booked by calling Ray on 07968 957177.
All proceeds go to Happy Faces Children's Charity