For the past two and a half years we've been hired by the Tynedale hotel in Llandudno for their twice yearly variety breaks. We always look forward to working there, as the shows are fun and the staff are friendly.
Every venue is different and the Tynedale has a couple of unique features which we've had to take into consideration. The room is "L" shaped, which means there are two separate audiences to perform to – we have to be careful to make sure both sides can see what we're doing and that they are both included in everything, rather than focusing on one side of the room.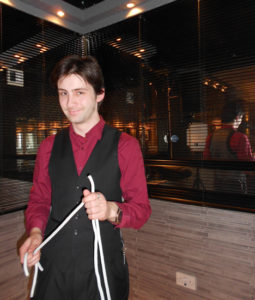 The second is a particular challenge for magicians, as you can see from this picture. People quite often say that magicians do everything with mirrors, but having the walls behind you covered with mirrors certainly makes things interesting!
We're back again on Saturday for our final show of this run, and then we'll be getting ready for the Victorian Extravaganza and the shows at the town hall in Llandudno.