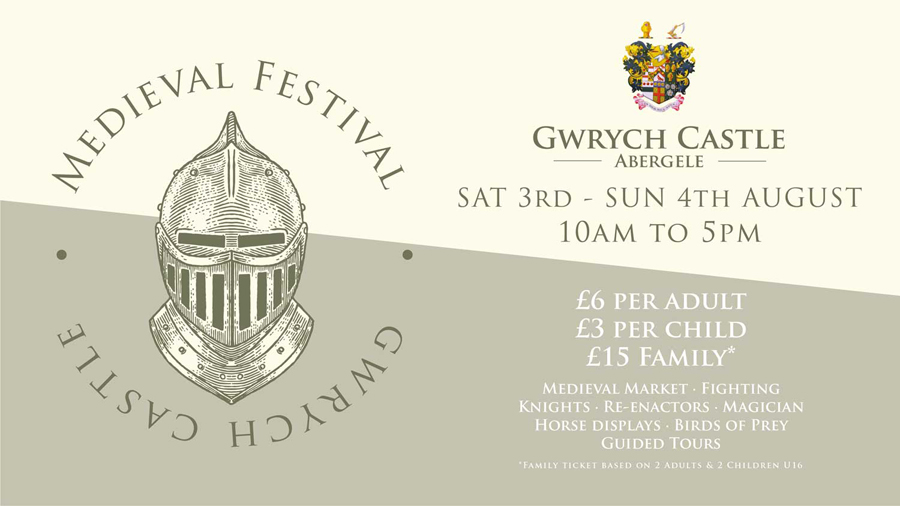 The summer holidays are in full swing and now is the time to find things to go out and do, to enjoy the beautiful weather and escape the house for a while. It's always wonderful to go and explore new locations, with lots of hidden secrets and North Wales is full of such places. And as the title of this blog might point out, we have one such place to suggest: Gwrych Castle Medieval Festival 2019!
On the 3rd and 4th of August Gwrych Castle will be hosting their ever popular Medieval Festival. This will be the third year we have attended and was one of the debut locations for the Wizard of Conwy.
It is a fabulous day out and one that helps support the renovation of this gorgeous location. There is always lots to see and do. Of course Jay will be there in full wizard garb entertaining one and all with some astounding close-up magic, up to three shows throughout the day and some occasional balloon modeling. When you see the green and blue robes about the castle be sure to come over and say hi, then share in some magic.
In addition there will be tours of the grounds to partake in, birds of prey to have a picture with, a hefty number of re-enactors… and where there's re-enactors there's sure to be a sword fight or two! And if the kids fancy a go there will be a children's sword fight school to boot. 
Gwrych Castle Medieval Festival 2019 is a superb day out for the whole family and a wonderful location to chill out in as well, so why not bring a lunch or grab some food and drink from one of the stalls and soak in the atmosphere.
We look forward to seeing you there and sharing some marvellous medieval magic with you.
What you need to know about Gwrych Castle Medieval Festival 2019
Tickets are only £6.00 for adults, £3 for kids with under 3s getting in free, and a family ticket is only £15.00. And all funds go towards helping to continue the restoration of this astounding building – and with continued support the Castle will reach its former beauty once more.
For more information about the festival, check out the event page on Facebook.
You can keep up to date with all the lastest news on Gwrych Castle's Facebook page.
If you're interested in reading more about the history of the castle and the work being done to restore it, visit their website.
For more details on our outdoor entertainment, visit our outdoor entertainment page.