Join us on Wednesday the 26th  of June, for a Harry Potter evening in Llandudno.
Llandudno is a very popular tourist destination, with plenty of shops and attractions to keep everyone occupied during their visit. But hidden away in plain sight on Clonmel Street is a wonderful shop full of magic and mystery; a place dedicated to the wondrous and mystical world brought to life by J.K Rowling.
Llandudno's Hogwarts! The Wonderful Wizarding Boutique.
The Wizarding Boutique in Llandudno is a Harry Potter fan's dream, the perfect place for all your magical needs.
Last month we brought some of our wizarding magic to one of their special ticketed events. It was a blast to be a part of and everyone had a great time, with plenty of positive comments following the evening. Thanks to this success we're returning to Llandudno's Hogwarts with even more magic and mystery.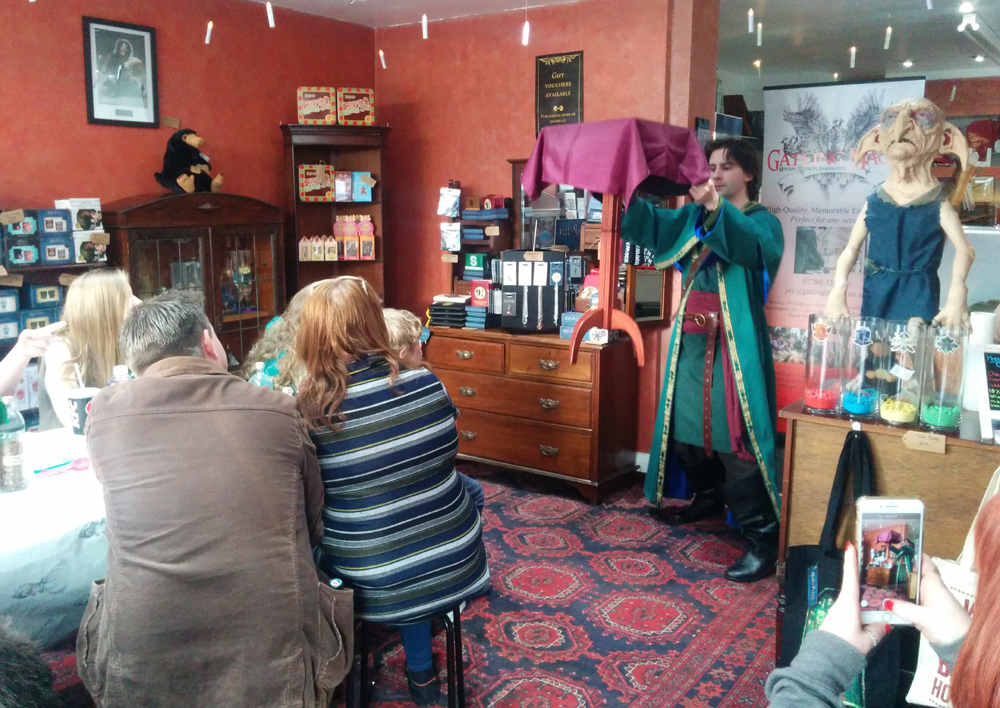 An evening of magic and potion making
This is a brilliant and unique night out for any Potter fan. The evening begins with a serving of Butterbeer, a truly tasty beverage straight from the books. Then once everyone is all settled in, Jay kicks off the night with his magic and illusion show; you'll feel like you have truly entered into a school of witchcraft and wizardry!
Then it's time to put your crafty mind in gear and create your own potion, by the end of this you'll have your own unique item to put proudly on your mantelpiece at home. Just make sure you tell all your guests that just one sip will turn them into a toad!
And the evening closes out with the dastardly, difficult (but fair all the same) Harry Potter quiz. This is the ultimate test to see if you are the Hermoinie of Potter fans, and an unlimited font of wizarding knowledge.
After all that, you will be able to peruse the shop and maybe find that last thing you need for your collection. It's a brilliant event and perfect fun for all ages, there's something for everyone to sink their teeth into.
And it's important to remember that we solemnly swear that we are up to no good. Are you? Come along and join us in some Harry Potter revelry.
What you need to know about a Harry Potter evening in Llandudno
The event will take place on Wednesday the 26th of June 2019 at 6.30pm and is suitable for all ages, though under 12s must have an adult with them (only the participating child needs a ticket).
Tickets are £15 and can be booked online through the Wizarding Boutique website.
For more information , follow this link to the event page on Facebook