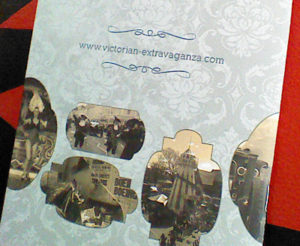 We'll be performing at the annual Llandudno Victorian Extravaganza again this year, on the 4th, 5th and 6th of May.
We will be roaming the streets all weekend, ready to amaze the crowds with close up magic right before their eyes.
And at 12 noon each day, we'll be on the Promenade Stage with our new show.
2013 will be our sixth year working at the Extravaganza, each year brings something different and exciting, and we're really looking forward to being part of this amazing event once more.
We've had a glimpse of this year's programme, and there's a very familiar looking figure on one of the pages!
This photo was taken back in 2010, and it was a lovely surprise to see it had been included in the programme.
The Extravaganza runs from Saturday the 4th of May to Monday the 6th of May.
www.victorian-extravaganza.com
www.facebook.com/victorian.extravaganza