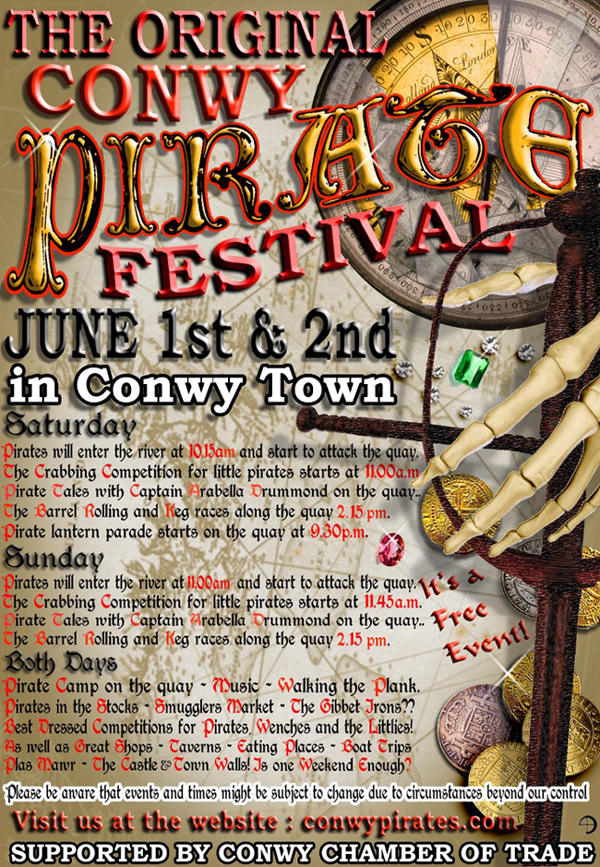 Ahoy there mateys! Avast and pay heed…savvy? Right, that's plenty of pirate talk landlubbers… okay that was the last one. What can we say? We're excited to be a part of the awesome Original Conwy Pirate Festival 2019. You can't beat dressing up as a pirate and drinking plenty of tea… that's what pirates drink, right?
On the 1st and 2nd of June Conwy will once more play host to an invasion of pirates, buccaneers and swashbucklers as the Navy try to defend the quay from them; to no avail of course.
There will be much to see and do for big and small pirates alike, including event favourites such as the fancy dress competition, and the barrel and keg races. There will be loads of pirate games for all to enjoy and much, much more, all within the amazing setting that is Conwy town.
When pirates clash…
Jay will be there helping to compere the event alongside performing his pirate magic, as well as being joined by his shipmate Erwyd, so this can only mean one thing…FIGHT!
Pirates being pirates there's bound to be some sort of disagreement, like who gets the last pie, so the inevitable will undoubtedly occur. Erwyd and Gatling will be taking to the quay with their hugely enjoyable and much requested sword duel; be sure to be there and cheer for your favourite pirate and boo for the other; it's amazing fun for all the family so don't miss out. You never know, there may even be some other magical/juggling surprises!
As a first for The Original Conwy Pirate Festival this year, Erwyd and Gatling will be leading the charge as part of an audacious invasion of the most fortified part of Conwy Town: a fine prize for any pirate, and one that is considered an un-winnable reward. But you can be sure this dastardly crew don't know the meaning of the word (seriously, most of them can't read). That's right, if you haven't guessed by now, the Conwy pirates will be leading an attack on Conwy Castle itself.
As you can tell we can't wait for this event, and we hope that you're excited too. Arrr you going to be there? If so put on your tricorn hat, strap your cutlass to your side and perfect your best sneer and we'll see you at the most diabolical event in North Wales. The Original Conwy Pirate Festival 2019.
What you need to know about the Original Conwy Pirate Festival 2019
Conwy Pirate Weekend 2019 kicks off with a pirate party at the Bluebell in Conwy from 7pm on Friday the 31st of May.
The main event takes place on Saturday the 1st and Sunday the 2nd of June on the Quay. Visit the event page on Facebook.
You can visit the official Conwy Pirate Festival website here.
Or check out their Facebook page to keep up to date with all the latest news.
We've been involved with the event since the very first one back in 2012 and we always have a great time. Take a look at what we got up to in 2018, 2015, 2014, and 2013.
For more details on our outdoor entertainment, visit our outdoor entertainment page.
Read more about Two The Hilt here.