We've been rather busy of late, so I'm a little behind with the blog posts. (If you're wondering what it was that kept us so busy, visit the blog again later in the week, and there'll be a post all about it.)
Today's blog is a combination of two of our recent events, that share a common strand.
Firstly, back in June we performed at a James Bond themed evening for the Venue Cymru Fundraisers and the Llandudno Lions. It was a great chance for us to try something new, and we themed our magic using ideas and music from the James Bond films.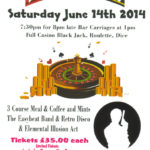 We almost also ended up with a stowaway, when Bernie tried to sneak into one of our bags when we weren't looking. We managed to persuade him to stay at home, but he wasn't very happy about it!
At the beginning of July we took part in the North Wales Magic Circle's annual stage and cabaret competition.
Inspired by the themed show that we'd just done, we put together a new act specially for the competition. The ten minute act used music from the James Bond films as a backdrop to the magic.