As promised, here's the explanation for the lack of posts recently: we got married!
We moved house back in April, and between then and June, we spent most of our time organising the wedding. To say that things were chaotic doesn't even begin to cover it, but we got everything sorted in the end.
The day itself was amazing, and we had glorious sunshine all day. It was great to be surrounded by family and friends and to share the day with them. And as you can see, Bernie played a vital role as our unique ring bearer.
Of course, there was plenty of entertainment at the reception afterwards, provided courtesy of our friends Dean Raymond, Harley the Clown, and Roslyn Walker.
They all put on extra special performances just for us, including Harley doing a dangerous balancing act that he normally only attempts with small children – except that this time he performed it with Jay sat on his shoulders!
It looked rather precarious, but they both managed to stay balanced and got a huge round of applause.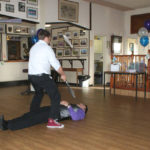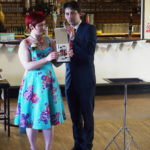 Jay also couldn't resist the opportunity to take part too, and show some of his magical routines.
Appropriately, he chose to perform his linking rings routine, and a chain escape with a twist – instead of escaping, we ended up chained together!
We had an incredible day, one that we will always remember. We're so happy that after eight years together, we're finally married, and have got everything we've been dreaming of for so long.