On Saturday the 8th of June it will be time to break out the Wizard robes once again and bring our unique magic to another North Wales event. You'll find us at the Broughton & Bretton Carnival 2019, hosted at the Broughton and Bretton Community Centre, from 12pm until 5pm.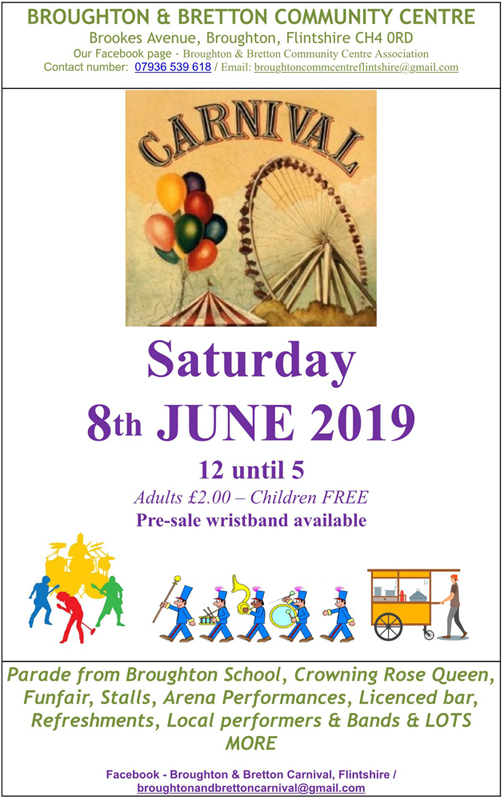 We love taking part in these local community events, they are always well attended and help bring the community together with lots of fun activities for the whole family, and of course plenty of entertainment.
No carnival would be complete without an opening parade, and Broughton Carnival kicks off in just such a way. Jay has been asked to lead the parade this year. So keep an eye out for the Wizard of Conwy playing the pied-piper as he leads costumed folk, floats and bands galore, as they make their presence known and get the town hyped for the day's event.
Throughout the day Jay will be about the carnival field entertaining one and all. He's scheduled to perform his Wizard show on the field three times over the course of the day, so watch out as the crowds begin to gather for some wizard styled madness and fun. He will be sharing with all some of his favourite magical effects and challenging himself in unique ways for the enjoyment of all there gathered. Magic, juggling and impossible puzzles are all part of this enjoyable show.
Jay always likes to keep himself busy through an event, so between shows he'll be engaging with attendees with some smaller tricks and effects as well. There's nothing more astonishing than magic that happens right in your hands or inches from your face.
So if you're attending the event, watch out for the green and blue robes across the field, and be sure to come by and say hi! We'd love to meet you there.
Details of the event can be found on the Facebook page, and on the Broughton & Bretton Carnival 2019 event page.
For more details on our outdoor entertainment, visit our outdoor entertainment page.